UPDATED September, 2019
If you run a blog, you know the one thing that you need is traffic. Even if you run a blog as part of your ecommerce store, you still need traffic in order to justify taking the time to create the content for it. If you run a standalone blog, you really need traffic in order to keep the lights on.
If you've got a blog and are struggling to get the traffic that you need, you aren't alone. Did you know that only 50% of blog posts get more than 8 shares? Meaning, the other 50% gets less than 8 shares. Those aren't great numbers, but one way you can start to turn things around is by getting increased traffic to your blog. The more people that see your content, the more chances you have that they will engage with it.
Quick side note- if you are trying to boost traffic to your blog and it contains less than stellar content, you're not going to have much success. Quality content is the best foundation you can give your blog. Here are some great tips from industry experts to check out. However, just having great content isn't the full recipe for success. There's a lot more you need to do, especially today, to get solid traffic to your blog.
Today we'll be talking specifically about boosting your traffic. Here are our best tips on how to get your numbers moving in the right direction.
Interact in Your Specific Industry Community
One of the benefits or side effects of running a great blog is that over time you can come to be viewed as a thought leader in your industry. However, you don't get there by communicating in one direction only. Blog posts should regularly be going out, but you should also take the time to engage with your community. This involves reading other content and meaningfully commenting and engaging with other bloggers and readers.
Take your conversations off of your blog and the blogs of other people and take it to social media as well. This is clearly one of the best areas to reach out and engage with people, and it can result in some serious increased exposure and traffic.
The above example shows how popular blogger Sandy (who blogs over at sandyalamode.com) engages with her audience. The image is one she posted, and if you take a look to the right you'll see all sorts of comments from her that are replies to comments from her audience. This is exactly what readers like to see! Take the time to engage with people, it will really pay off.
You can't expect people to instantly love your blog and your content right off the bat. There is far too much competition for that, and people are looking to develop connections with bloggers rather than just reading their content. Take the time to build up these relationships and you'll slowly and steadily build a large, engaged audience.
Pro tip: By talking with other bloggers you also open yourself up to possible guest post or social media shoutout opportunities, which are two other great ways that you can boost your blog traffic.
Nail Your SEO
You absolutely need to nail your SEO in order to have a chance at ranking high enough on search engine results pages so that your audience can actually find you. Ranking higher on search engines is one of the best ways to gain increased organic traffic to your blog. To begin with, do some serious keyword research in order to come up with a solid list of terms you actually have a chance of ranking for. Keep in mind the value of long-tail keywords which have lower overall traffic, but higher relevancy and the potential for more targeted traffic.
Once you've got your list of keywords, you can start crafting content that focuses on those keywords. Don't engage in keyword stuffing, but make sure the keyword is logically placed throughout the blog post. Also make sure your keyword is places like your headlines, URL, meta description, and alt tags.
Ensuring your snippet on results pages looks good is also something really important. Take the example above- it came up when doing a quick Google search for blog SEO. It wasn't the first article on the page, though it was towards the top. The clean title, relevant URL, and short description all convinced me that it was the right piece of content I should click on.
Make sure that you are also taking the time to optimize your blog post and snippets so that they are appealing to users on search. People will always have numerous options to choose from when Googling something, and this is one way that you can entice them to click your link instead of someone else's.

Invest in Paid Traffic
Organic traffic is great and not something to be ignored, but to really see a bump in blog traffic, you need to invest in some paid traffic. In particular, getting started with some social ads can result in a serious increase in relevant traffic to your blog. Facebook's Ad Network, for instance, is among the top ad networks and should help you with an impressive ROI on your budget.
Organic reach when it comes to Facebook is pretty abysmal. In fact, you can expect a piece of organic content to only reach around 6% of your Facebook audience. Giving that content a boost or starting a separate ad campaign will help get your content in front of people who are likely to be interested in it. You have plenty of targeting options, and you should absolutely take advantage of them. Everyone wants to believe that their content will interest everyone, but that's not the case. Instead, hone in on your target audience in order to get good results.
You can also A/B test your ads in order to see what works best and results in the most traffic. Test different headlines and images to see what does the best job getting readers to click. It might be tempting to make your headline the same as the title of your blog, but don't do it. The title will already display (as you can see above). Come up with an intriguing headline or pull out a quote or statistic that you think will interest people to click. Check your results, tweak accordingly, and repeat!
Pick a Schedule and Stick With it
Consistency really is key when it comes to blogging. Not only will this help create a pattern in your readers' minds, it will help with SEO as well. If you always post a blog on Wednesdays, with time your readers will remember this and know to head to your blog on Wednesdays to get some new content. If you always post at random times and random days, your audience won't know when to come and read. Yes, you can (and should) push out your blog on social media and other areas, but it helps to have a consistent schedule.
The schedule you start with doesn't have to be the schedule you stick with forever. However, once you create a schedule, stick with it until you are able to change it. If you are only able to publish one blog post a week, stick with one blog post a week. Eventually, if you can step up your efforts to two blogs a week, switch to two blogs a week. Stay consistent with this and don't increase your posting frequency unless you know you are able to do so long term. Plan content out in advance so you aren't faced with publishing gaps when you've run out of ideas.
If you host your blog on WordPress, it is incredibly easy to schedule your blog in advance. You can have posts queued up days, weeks, even months in advance. This simple scheduling feature makes it easy to ensure all your blog posts go out at the same day and time always. Run a fitness blog? Why not capitalize on #MotivationMonday? Schedule a blog post each Monday morning. Your readers will come to look for your content at this scheduled time, helping to boost your traffic and keep your blog on your readers' minds.
The more familiarity and consistency you can develop, the more traffic you will experience over time. This is one of the hardest things to keep up with, but as you've probably noticed, the most successful blogs do it incredibly well.
Retarget Readers via Web Push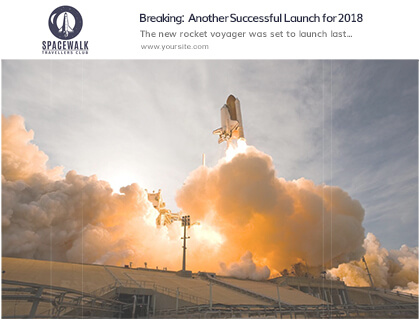 Finally, reaching out directly to your audience via web push and alerting them when new blog content is available is a great way to boost your traffic. We recommend segmenting your audience according to different types of content you share on your blog.
For example, send something similar to the above notification to any reader who has read current events related blog posts of yours. Segmenting your audience allows you to send more relevant notifications that your subscribers will be more likely to click on. Include an action button in order to improve your CTR and maximize your traffic boost.
Web push is an effective tool for boosting blog traffic because it delivers directly to your subscribers. Subscribers like it because it is much easier to opt in compared to more traditional things like email. Click allow, and that's it. Don't waste time digging through a crowded email inbox to find the right message. The message delivers immediately to their desktop or mobile device, and clicking it sends them directly to your content. It couldn't be easier! Head to our other blog post discussing content based websites if you want more ideas on how to use web push for your blog.
Note: If you are getting some good traffic but find your readers aren't engaging with your posts, consider one of these 10 WordPress plugins to help boost engagement.
Wrapping Up
Getting more eyes on your content isn't an easy job, but it's also not an impossible one. If you are struggling to boost traffic to your blog, it can feel like there is nothing you can do to change that. Hopefully these tips have convinced you otherwise. With consistent effort you will increase your traffic. Stay on top of your SEO, engage with your industry community, set a manageable schedule, invest in some social ads, and retarget your existing readers. Stick with it, and see what happens.
What's your favorite tactic for boosting blog traffic? Let us know by sending us a message!
Looking to get started with web push notifications? Get started for free with Aimtell, or learn more about web push by reading our Beginner's Guide.
---
Tags: blog marketing, boost traffic to your blog*, content based websites, digital marketing, web traffic.