Got a blog? You're not alone. Each day more than 4 million blog posts are published, but they aren't all created equal. Most suffer from poor engagement and some are never even viewed at all. Even so, blogs are still considered one of the best marketing and SEO tactics out there for brands looking to connect with their audience. In fact, over 50% of marketers list it as their top priority.
Alternatively, if you are strictly a content based site– such as a news website or a standalone blog, you have even more of a need for your blog articles to get great engagement. Low engagement is simply not an option for you. Great news- it doesn't have to be!
One of the main CMS platforms out there is WordPress. If you host your blog here (and chances are you do), you are in luck. There are plenty of excellent plugins you can start using to help skyrocket your blog engagement. We've rounded up the 10 best plugins you can start using right away to start seeing instant results.
Let's see who made the list!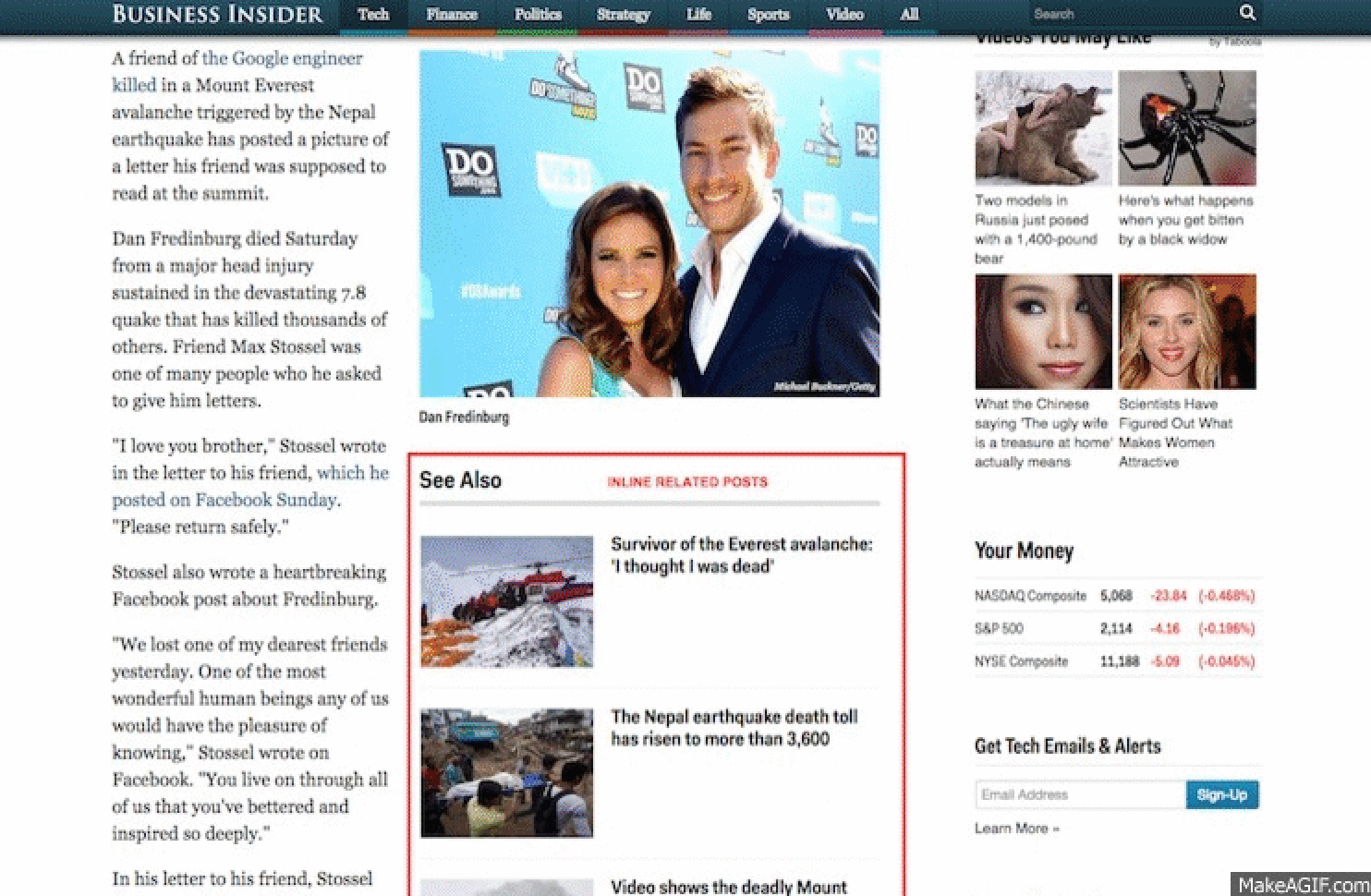 One of the best ways to keep your readers engaged with your blog is to offer them related content of yours that will keep them at your blog (instead of elsewhere) for longer. You can easily make this happen by installing the Inline Related Posts plugin. This tool takes care of the hard work for you by intelligently inserting your posts throughout your content. You can choose from several different styles and placements, giving you control over how your blog looks.
Instead of waiting to add related posts to the bottom of your post, add them up earlier within your content to grab your reader's attention. This is one of the best ways to quickly and easily boost your page views at your blog. Best of all, you can install this plugin and start seeing results right away. You don't just want traffic to your latest blog post- you want traffic to all of your blog posts! This plugin can help make that happen.
Do you utilize a newsletter to help announce new content of yours? It's a great strategy, but only if you've got a solid email list built up. A great way to increase your list is to deploy a popup that makes it easy for users to become subscribers. The Popup Builder is a great plugin that allows you to easily build beautiful popups that match the styling of your blog- and you don't need to know how to code in order to do so. Their builder is easy to use and allows you to customize every aspect of your pop up.
Popup Builder integrates with several other plugins as well that you may already be using like Contact Form 7 and Ninja Forms. You can also create other types of popups as well that can help with blog engagement. We personally like the idea of creating a social media popup that will encourage users to share your content via social media, which is another great way to boost engagement.
Either way, getting started with popups is a great way to capture your users' attention and get them to stay connected with you and your blog.
Ever heard of Buzzfeed? Of course you have. In recent years their interactive posts have become some of the most popular pieces of content on the Internet. You too can easily create interactive content via the use of WordPress Viral Quiz! They make it incredibly easy to create all different types of quizzes- including trivia quizzes and personality quizzes. These types of content perform so well online- especially on social media.
While every piece of your content doesn't need to be a quiz, by introducing quizzes and fun interactive content into your overall content strategy, you are sure to see a major increase in engagement. Make sure your quizzes are related to your existing content or brand, however, but feel free to have some fun with it!
We also really like that this tool allows you to set up your quizzes so that a user has to complete a certain action in order to see their results- which could be to either provide their email address or share their results on social media. This action step will help to further increase your blog engagement and potentially increase your email list or your social media presence. You've got a lot of opportunity with this tool, and it's definitely something you should consider taking advantage of.
Social media, if you haven't noticed already, is a great way to help skyrocket your blog engagement. There are several ways you can go about increasing your content visibility on social media, and one such way is through the use of the plugin Better Click to Tweet. This plugin allows you to pull certain quotes from your content and make them easily clickable. As the name suggests, a user just clicks the quote to tweet it out. It couldn't be easier!
This plugin handles all the behind the scenes work for you- all you need to do is select the quote you want to use and set it within a simple shortcode format. If a user clicks to tweet, the tweet will include the quote along with a link back to your article.
This is a great way to boost blog engagement, as it doesn't just increase your blog's presence on Twitter, it does so in a way that is likely to result in clicks back to your blog. Make sure you really spend some time selecting the best possible quotes from your content that are really intriguing and that will inspire your readers to tweet it, and for Twitter users to click it.
One reason your blog may have low engagement? It takes too long to load. While there are several things that may cause a dip in page speed (here's a list you can check out), one main culprit is your images. The larger your images are, the longer it is going to take your blog to load.
Keep in mind that having excellent visual content is majorly important for successful blogs- so you shouldn't consider removing your images altogether. Instead, use a plugin like WP Smush to help compress and optimize all of your images. This can majorly increase your blog's load speed, and as a result, your engagement. This plugin makes it easy to make sure all your images are properly optimized- it even allows for bulk 'smushing' so that you can take care of all existing images at your blog.
This is a great tool that all blogs should make use of. This plugin is easy to install and use, does the work for you, and will only help improve your overall user experience for your readers.
As your blog continues to grow in size, there is the chance that you can end up with some broken links or missing images. Could you technically go through periodically to check each and every blog post of yours to make sure all images and links are functioning properly? Sure…but who has time to do that?!
Instead, consider the plugin Broken Link Checker that can do the hard work for you. This plugin will scan all of your content and send you an email with any issues that you need to address. It couldn't be easier! Broken links or missing images negatively impact your blog and can unfortunately turn readers away. Don't let that happen to you! You have a hard enough job to build up an audience, the last thing you want to do is lose them over something you can easily fix.
Save time and save users with this plugin. Get results to your email or view them from your WordPress dashboard and easily make the changes needed all in one place.
Wouldn't it be nice to speak directly to new readers of your blog and get them to perform an action, such as subscribing to your RSS feed? The plugin What Would Seth Godin Do gives you the ability to do just that! Through the use of cookies the plugin will determine if a reader is new, and if they are, it will display a message at the top of your blog- you can fully customize what you want the message to say, and also determine how long it should stay there. Do you want it to only display once to brand new readers? Or should it linger until they've visited a few times? The choice is yours!
This is a great way to engage your readers and get some increased engagement. You can also use this plugin to describe what your blog is- something that is useful for new readers. Capture their interest so that they become loyal readers- giving you that boost in engagement you are looking for!
Wondering why the plugin is called what it is? It's thanks to an idea from, you guessed it, Seth Godin, who is an advocate for using cookies to distinguish between new visitors and returning visitors.
Here's another simple but incredibly effective tactic for increasing blog engagement- make it easier for your readers to share your content on social media! This plugin allows you to add share buttons so that a user can easily share your content wherever they want. The easier you make it, the more likely a user will actually do it.
This plugin includes over 200 social media platforms (impressive) and allows you to choose between 16 unique button designs, ensuring there will be a design that will compliment the style of your blog. You also have control over where the buttons display and other features such as if they have a hover effect or if they include share counts.
Make sure you include the main social platforms, like Facebook and Twitter, and of course also an email share button. Based on your content and target audience you can decide whether to include other platforms like Instagram, Pinterest, or LinkedIn.
This next plugin, Worth The Read, relies on some basic psychology to help you boost your engagement. This plugin places a progress indicator either at the top of, bottom, or side of your blog. As a user continues reading (and therefore, scrolling) the bar will edge closer to completion.
Sounds simple, right? It is. And it's effective. As Neil Patel puts it: "As people, we are driven to: [have goals; and then accomplish goals.]" The progress indicator subtly introduces a goal and encourages the reader to then accomplish the goal, which is to complete reading the article. Genius!
This is an easy way to encourage your readers to read all the way through your blogs (and hopefully perform some other actions along the way, like sharing via social media, signing up for your newsletter, reading related articles, and more).
Finally, your readers are going to leave your blog at some point, and that's fine! Encourage them to come back by targeting them directly via web push notification! This is a great way to alert your readers in real time when you publish a new blog post. Segment your readers according to their interests (which could be the categories of blog posts they have read, for example) and send an alert when a new post in that category is live!
Most readers, even your most dedicated ones, won't check in with your blog each and every day. Don't wait around for them to check in with you- be proactive and reach out to them! With web push you can easily and quickly reach out to your audience and also increase your blog's engagement. Remember to personalize your campaigns to further increase their effectiveness and be sure to include some compelling action buttons.
If you want more examples, head to our blog dedicated entirely to why content based websites love web push.
Wrapping Up
If you run a blog on WordPress, the best thing you can do is make use of these great plugins that will help skyrocket your engagement. You spend a lot of time creating quality content, and these plugins are here to help ensure that content gets the attention that it deserves.
Whether you start adding in some new content to your strategy in the form of quizzes and other interactive content, or start optimizing your blog in other ways by adding share buttons, inserting related posts, utilizing popups, retargeting via web push, and more, you are sure to see some excellent results.
Are there any other plugins you rely on that we forgot to mention here? Let us know by sending us a message!
Is web push one of the tools you are looking to get started with? Get started for free with Aimtell, or learn more about web push by reading our Beginner's Guide.
---
Tags: content marketing, content strategy, customer engagement, skyrocket your blog engagement*, web push notifications, wordpress.