Have you ever wanted to optimize your notifications by timezone? Wondered how to track a user when they abandon your marketing funnel? Or if not- do those sound like great ideas to make your campaigns stronger and life easier? It's your lucky day!
We have been hard at work creating some new web push features and listening to your feedback. Today, let's talk about everything coming your way. There's a lot to get to, so let's dive in.
Push Campaign Timezone Optimization
We've already discussed the potential negative impacts of sending a web push notification at the wrong time. In fact, optimizing by timezone is one of our top tips for boosting your click through rate. Now, we are making it easier than ever to ensure your subscribers are getting your notification at the right time.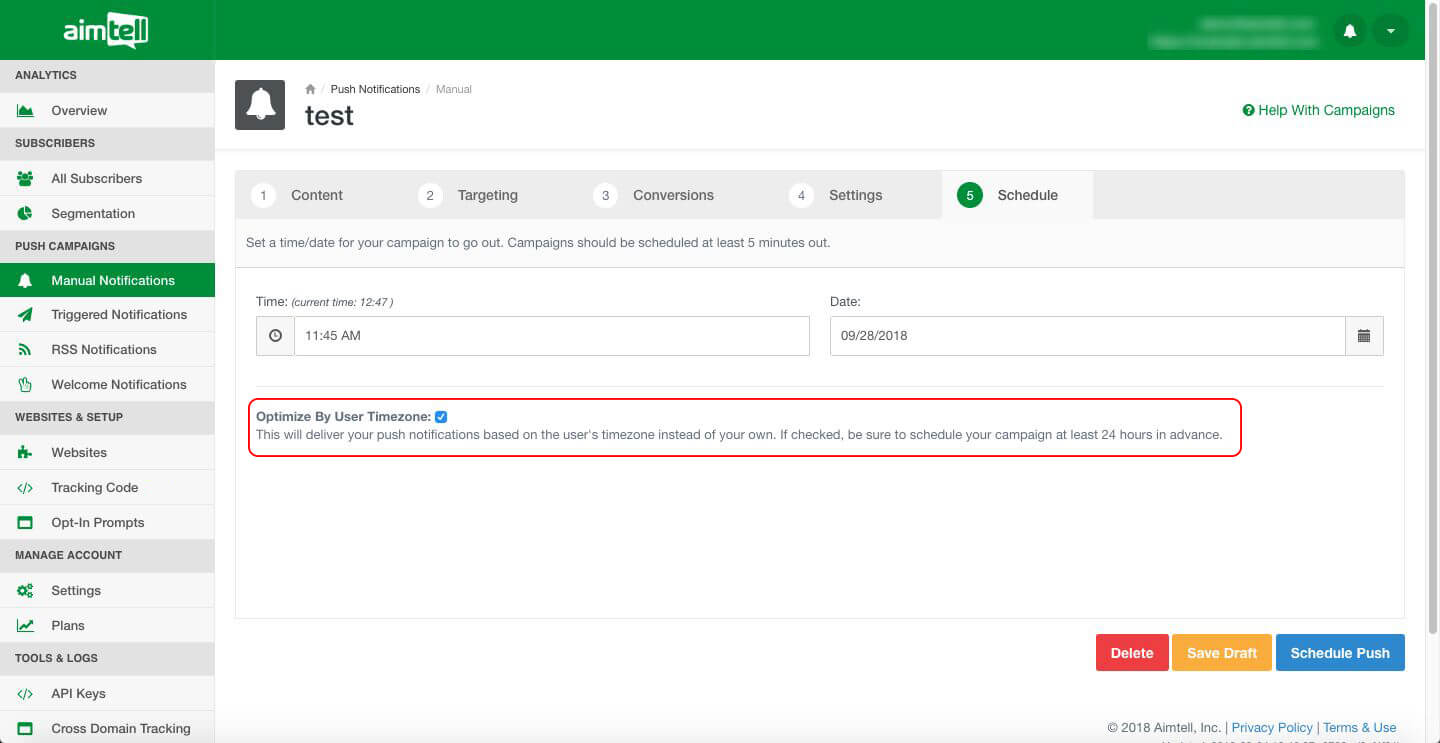 When scheduling your next campaign all you need to do is check the 'Optimize By User Timezone' box that is present under the 'Schedule' tab. That's it! This will make sure a notification is sent based on the user's timezone, not your own. All you need to make sure of is that you are scheduling your campaign at least 24 hours in advance.
Pro tip: Remember that it is also now easier than ever to send a notification to multiple segment groups. This would allow you to send a notification to people who use Chrome but also live in a certain location (for example).
Abandoned Funnel Tracking
You know the power of abandoned cart marketing. Now, you can also track users who abandon a funnel campaign of yours. This can be especially useful when trying to accomplish another type of sales goal- say for example increasing form submissions.
To do this, you need to have multiple pages set up within your funnel. Success means that a user goes to all the pages in your funnel. If a user abandons the funnel at any point (say they do not go from page 1 to page 2) you can target them with a notification!
Setting this up is easy. All you need to do is set up a custom event tracking your goal (say filling out a form). Next, you add a short bit of code to the two pages you are tracking. Finally, you can set up a triggered campaign that will send if a user abandons your funnel.
You can learn in more detail about abandoned funnels, including how to set them up, by reading our documentation.
Copy Campaign Across Sites
A great way to save time is by copying existing campaigns so that you can either send them again at the same website, or even better, copy them to send at other websites you own. This can be incredibly useful if you've got a campaign that gave you great results- you can now easily copy it in order to send it again.
If you want to copy a campaign to use at the same website, all you need to do is hit 'Duplicate Campaign' from the Options drop down menu. If you want to copy the campaign to a different website, hit 'Copy Campaign' from the drop down and switch to the website you want to use it at. Hit the Options menu and hit 'Paste Campaign.' That's it! If you manage a lot of websites this will be a real time saver for you.
Quick Switch Websites In Navigation
Another quick new feature that will make copying campaigns go even faster is our new Quick Switch feature! To switch to a different website you have connected to your Aimtell account all you have to do now is click the arrow from the top menu. Then, select 'My Sites' and click the site you'd like to switch to. No more heading to various pages within the dashboard- this will save you a lot of time, especially the more sites you add to your account.
Wrapping Up
That's it for now! Look out for all these web push features- they are available now and ready to go! We hope you'll enjoy tracking your new funnels and enjoy all our other new features that will make your life easier and allow you to create campaigns even quicker, especially across various websites you run.
Are there any other features you'd like to see come to Aimtell? Let us know by sending us a message!
If you want to get started with Aimtell, head this way and sign up for your 14 day free trial.
---
Tags: digital marketing, product feature, timezone optimization*, web push notifications.