With the new year comes a new chance to improve your marketing strategy. Have you taken a look at your analytics from 2018 and come up with some ideas for improvement? Or, perhaps you have hit a bit of a standstill and aren't really sure what the next step is? That's okay too!
A major area of improvement for most brands comes in the form of marketing automation. By no means a new trend in marketing, rather it is one that marketers are increasingly coming to see as a need for their business, rather than just a want.
The last few years has seen an incredible rise in marketing automation. In fact, research shows that spending on marketing automation should rise to $25.1 billion by 2023. If you aren't on board yet, it's understandable. Most see the value of marketing automation, but feel that they lack the skills to really put it into practice.
Thankfully, getting started isn't as difficult as it seems. There are plenty of ways to leverage marketing automation for the benefit of your business. From gathering leads, to distributing content, retargeting, and more, let's see how you can best make marketing automation work for you.
Lead Management
We all know the value of leads, but we also all know how difficult (and time consuming) it can be to properly label them. Leads come to your business from a variety of places, have different buyer personas, and are at different phases of the buyer's journey.
To really master your lead management you need a way to effectively determine which leads are qualified or not, and which group they belong in so that they can be properly nurtured. Lead automation software can save your business tons of time, while also helping improve your overall effectiveness. Tools like Velocify rely on smart automation to help sort your leads and score them as well.
Lead scoring is a major game changer when it comes to your marketing. Instead of assuming that all of your leads are both qualified and ready to buy, lead scoring helps to get a better understanding of each lead. Automated lead scoring takes numerous factors into account (such as demographics, social media interactions, or previous interactions with your business) in order to provide a more accurate analysis of your leads.
With a better picture of who your leads are, you can then start to target them with appropriate content based on where they are in your sales funnel. By automating this process you have more time to focus on creating that quality content that will engage your leads and move them down your sales funnel.
Email Marketing
Email marketing is an effective way to engage your audience, but each year it becomes more important to nail it. Not only are inboxes crowded with messages, plenty of brands are simply doing a better job at providing relevant, personalized messages that people actually engage with.
If you aren't doing the same, your audience is sure to hit 'unsubscribe' quickly. Email marketing automation, however, can save you time and help you send the right messages to the right people.
In particular, setting up automated email drip campaigns is a great way to leverage automation in order to boost sales. Drip campaigns are simply a series of email messages that send out over a period of time. These emails work together in order to educate your subscribers and push them towards whatever your particular marketing goal is for the series- purchasing a product, signing up for a webinar, or simply increasing website traffic.
The above image is an example of a drip campaign email from Trello. Not only is this a great email that provides value by explaining various ways to use Trello, it took a holiday approach in order to provide added relevance to users during that particular season.
Whichever email platform you are using should have at least some level of automation built in so that you are able to set up these campaigns. Mailchimp is a major email marketing tool that has plenty of automation opportunities, or you could consider using a specific tool like Drip that will help you craft a variety of automated messages.

Content Personalization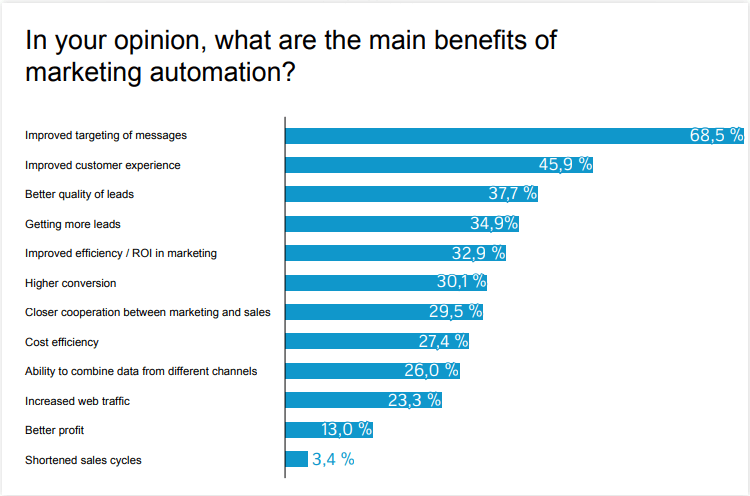 Personalization is an absolute must in marketing these days. 77% of marketers agree that personalization is vital for success. Users in all industries have come to expect it, and it is your job to deliver. Thankfully, one of the many things that marketing automation can help with is personalization and targeting. Check out the above chart that shows the main benefits of marketing automation. The top response is improvement in message targeting!
You work hard to create a variety of content, but you will only have success if you deliver the right content to the right audience. With the right marketing automation, you can segment your audience into logical groups and target them with the proper messages.
Get help with your personalization by utilizing a tool like Optimizely which helps you deliver targeted content in real time!
By collecting and analyzing consumer information- such as their activity at your website, social media behavior, and more, Optimizely can help you deliver relevant, personalized content to each and every user at your site.
The example above shows three unique pop ups which display to three unique audiences. Implement personalization as frequently as possible- including in your content, on your social media, and on-site. Automation helps you get it done quickly and effectively.
Customer Service
We have talked about chatbots before, but we are mentioning them again because they are so popular, and so effective! Having exceptional customer service is just one of many ways to set yourself apart from your competition.
Automating some of this is a great way to free up time to spend on other parts of your business. If you need convincing that people engage with chatbots, let the research speak for itself. Over 60% of users who were messaged by a chatbot on Facebook Messenger have responded. That number is way up from years past, and will continue to grow.
Just like personalization, people are also coming to expect speedy customer service. A chatbot allows you to engage with your audience 24 hours a day, 7 days a week. Plus, these bots can store information about your customers and use it to provide relevant information or send targeted messages.
Use a program such as ManyChat to help you set up your very own Facebook Messenger chatbot. You don't need advanced technical knowledge in order to create your own bot, and best of all, with ManyChat you can actually start for free. You have no excuses to not give it a try!
Retargeting
Finally, you should absolutely leverage automation in your marketing when it comes to retargeting. These users have landed at your website and engaged in some way- they are qualified leads that you don't want to let slip through your fingers!
There are plenty of opportunities to automate your retargeting. If you are an ecommerce brand, you should follow up and retarget each and every user who abandons their cart. If a user hasn't added items to their cart, you can still retarget them based on other actions.
Web push notifications are a great way to retarget your audience. You may get a user who spends a lot of time at your website, but if they don't provide you with their email address, you aren't left with many options for retargeting. However, as long as they have subscribed to your web push notifications, you can retarget them immediately!
In addition to retargeting abandoned carts, we also recommend setting up automated and recurring notifications that are meant to re-engage customers who haven't visited your website in a while. You can easily set this up by creating a segment of users who haven't visited your site in a certain amount of time (for example, 1 week). The segment will automatically update and your notification will send according to whatever schedule you set up (daily, weekly, monthly). This is an easy way to engage your audience and get a steady stream of traffic back to your website.
We also recently discussed some top ways you can automate customer engagement with web push. It's a great resource for finding some additional tips and ideas for leveraging the power of automation with your web push notifications.
Wrapping Up
If you haven't set up any marketing automation before, it can feel intimidating. However, thanks to helpful tools you can get started easily. Marketing automation is a great way to streamline your lead gathering and scoring process, send more targeted emails, identify personalized content opportunities, retarget your audience, and more.
What is your favorite marketing automation strategy? Let us know by sending us a message!
Looking to get started with web push notifications? Get started for free with Aimtell, or learn more about web push by reading our Beginner's Guide.
---
Tags: abandoned carts, automation, digital marketing, ecommerce, marketing automation*, web push notifications.