You've read articles on it before, but what exactly is inbound marketing? Is it truly the best form of marketing for brands to engage in? Are you already doing it without being aware of it? All great questions that we want to answer!
First off- are you already engaging in inbound marketing? Probably so. If you run a blog, have a social media page, or are engaging in any SEO, you're involved in inbound marketing. The problem is, many brands simply aren't doing it well. While any brand can start a blog, it doesn't mean the blog will be successful. Anyone can sign up and create a Facebook page, but that doesn't mean it will result in furthering your brand identity or generating sales. A strong strategy, as always, is needed when it comes to inbound marketing. When done correctly, it can work wonders for your brand.
So, what exactly is inbound marketing, and is it truly the best marketing to engage in? Let's find out. Beyond the definition, we will also be sharing our top techniques for developing a strong inbound marketing strategy.
Defining Inbound Marketing
Before we go any further let's take a minute to actually define what inbound marketing is. As the name suggests, it is all about pulling your target audience in to you and your brand. Through the creation of solid content, social media messages, and ranking well on search engines (just to name a few), you are encouraging your audience to come to your website to see what you are all about. Once there, you continue to provide them with excellent content that encourages them to convert and, hopefully, become a lifelong customer.

Makes sense, right? It should. It is a departure from more traditional forms of marketing, or what we can call outbound marketing. Think cold calling, mass emails, and traditional forms of advertising like billboards, magazine ads, commercials, and more. There is no targeting involved, but instead just a mass message that is sent out in the hopes of connecting with the right people.
The bottom line? Inbound marketing is all about drawing people in and making them come to you. Outbound marketing sends a broad message out, hoping to capture some people along the way. Are there similarities? Yes. Can some forms of inbound marketing also be considered outbound? Yes. But it is the difference between the two that sets inbound marketing apart and is what makes it so valuable for brands today trying to meaningfully connect with their audiences.
So, how can you develop a strong inbound marketing strategy? These 5 techniques will help get you started.
1. Define Your Audience
This is one of the most important things to keep in mind when developing your inbound marketing strategy, and is also what helps to distinguish it from outbound marketing. No matter how great your brand or your products are, they are not for everyone. You have a certain target demographic that is most likely to shop with you- and that is who you need to focus on with your marketing.
Remember? You aren't sending out content or ads to everyone with the hopes of some people responding to it. Instead, with inbound marketing you are sending out quality content to the proper audience that is most likely to respond to it and click back to your website.
Defining your audience will also help you shape your content. Part of understanding who your audience is is understanding what their main 'pain points' are. By knowing what problems your audience needs solved, you can then create content that focuses on solving those problems.
If you are a brand new business it will be harder for you to determine your audience. Consider looking at your competition to try and gain some insight as to who you should be targeting and tweak as you go. Once you start getting some website and social media traffic you can then look to your own analytics to start forming your own unique audience or buyer persona.
2. Produce and Share Great Content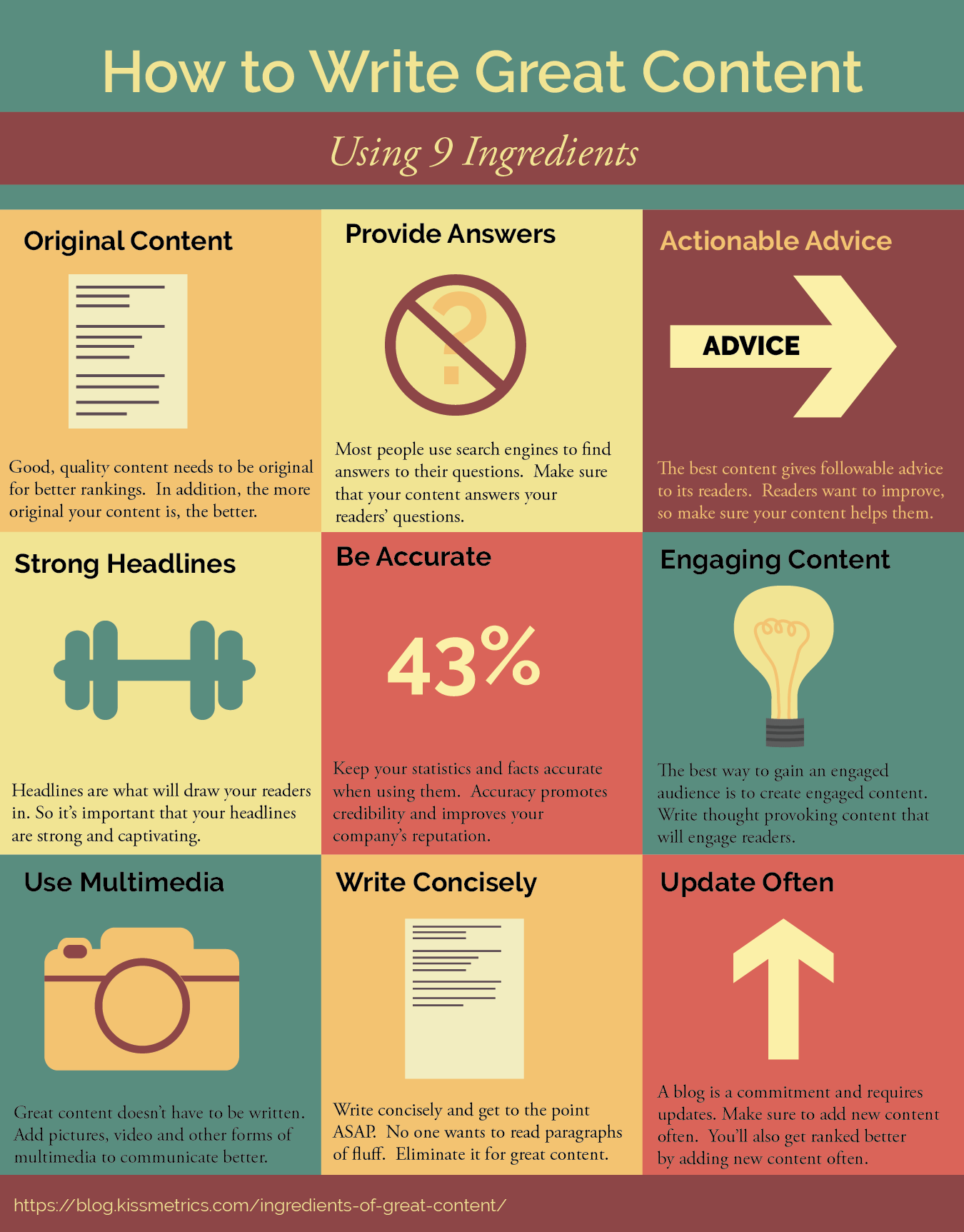 Now that you've figured out who your audience is, you need to work on engaging them and getting them to head to your website! One of the best ways to do this? Exceptional content. For many brands that is accomplished through blog posts- both their own blog, and utilizing other blogs through guest posting.
You can find countless articles on what is needed to form the perfect blog post, as it is one of the most common questions marketers ask. The above infographic also gives you a good idea of the key ingredients that form a quality piece of content. Most importantly, it needs to cover a topic that will interest your specific audience. You should also incorporate plenty of visual elements to help elevate the overall quality of the content (nearly 70% of marketers agree visual content is very important when it comes to content marketing).
Guest posting will also help with your inbound marketing efforts. By partnering with another brand or an influencer, you are gaining access to their audience. The key here? Make sure their audience is similar to yours! If not, the increased exposure won't amount to much. Make sure you also devote as much time to your guest posts as you do your own blog posts. Each and every piece of content you create should be thoughtful, engaging, and relevant.
For more tips on creating great content, check out Hubspot's complete guide to content creation.

3. Do Your (Keyword) Research
While having quality content is the most important thing to keep in mind while creating your content, you can't forget about doing your keyword research and related SEO work. By properly optimizing your content for certain keywords you can make your content much more accessible to your audience via search engines.
Using Google and other search engines is still one of the main ways that people search for brands or products. Making sure that your content shows up high on search engine results pages (SERPs) is key to a successful inbound marketing campaign.
Check out the difference between SEO leads and outbound leads- 14.6% close rate compared to just 1.7%! Applying inbound marketing techniques is the best way to ensure true business success, the numbers don't lie. We've talked about keywords before, but it bears repeating because it is so important.
Long-tail keywords in particular should be a main focus of yours, as they result in much more relevant traffic and are easier to rank for. Use a tool like SEMrush to do some keyword research to see what your competitors are ranking for, as well as to see what users in general are searching for online.
Select a short list and then optimize your website and content for those specific keywords. The higher you can rank for a certain keyword, the better. As people search for that term, they will see your content first and are more likely to click on your result. Add the keyword to your H1 tags, alt tags, meta descriptions, and of course in your actual content. As always, make sure you don't overuse your keywords, you always want your content looking and sounding natural.
4. Keep Your Social Media Social
It's right there in the name! Your social media should in fact be social. It sounds obvious, but plenty of brands fall short when it comes to their social media marketing strategy. Social media is one of those marketing areas that can easily turn from inbound marketing to outbound marketing if you aren't careful. Don't turn your social media pages into billboards! They are not meant for one way communication.
Instead, create content that invites your audience to engage. This could mean captioning your Instagram image with a question that your users can answer. Or, it could mean using some built-in interactive elements such as a Twitter Poll (as shown above) or an Instagram Story Poll. These features make it easy for you to put out interactive content that helps to diversify your social media and develop your brand identity. This is your chance to have some fun or take your audience behind the scenes. Every post shouldn't be a sales pitch about your products.
Having a strong social media presence is a great type of inbound marketing. In addition to using search engines, people also search for new brands on social media. If your brand has interesting, engaging content, you are more likely to get that follow. Once a user follows you, they'll then be in the loop with your content and are more likely to make the jump to your website.
5. Engage Via Web Push
Finally, a complete inbound marketing strategy should involve a strategy for engaging users once they land at your site and eventually leave. You've done a great job to draw them in with your content and social media, now you need to keep them engaged! One great way to do this is via web push notifications.
Even the most interested of people who visit your website are not likely to convert the first time they visit. In fact, on average only 2% of your visitors will convert! Don't let that other 98% disappear. Retarget them via web push and remind them why they were interested in your brand in the first place!
Your retargeting could be in the form of an abandoned cart notification if they happened to add items to their cart, but it doesn't have to be. Even if they just visited your website and left, you can still retarget them! Create a segment based on the time since their last visit, or based on their actual site behavior. Did they visit your blog? Send a notification when a new post goes up! Did they check out a certain product? Let them know when it goes on sale, or that it is low in stock.
You have plenty of options for engaging your audience via web push. To further optimize your campaigns you can also create content for each phase of the buyer's journey, ensuring that you are targeting your audience with the right content based on how close they are to deciding whether or not to purchase from you.
Wrapping Up
Inbound marketing is a powerful way for brands of all sizes to connect with their audience. Whether you are a well-established brand, or an exciting new startup, engaging in proper inbound marketing can help you scale your business. By defining your audience, creating quality content, optimizing your website, engaging on social media, and retargeting via web push notification, you are sure to see an increase in relevant traffic to your website, followed by an increase in sales.
What is your favorite inbound marketing technique? Let us know by sending us a message!
Looking to get started with web push notifications? Get started for free with Aimtell, or learn more about web push by reading our Beginner's Guide.
---
Tags: abandoned carts, digital marketing, ecommerce, inbound marketing, inbound marketing strategy*, retargeting, web push notifications.