A lot of marketers list landing pages as one of their best tactics for lead generation. When done well, that can absolutely be true. A well-designed landing page can and will draw in your target audience and encourage them to complete a given goal- whether that be to make a purchase, sign up for a newsletter, or download your ebook.
Notice that we didn't say any landing page will draw in your audience- we said a well-designed landing page will do so. What does well-designed mean? We will be answering that today! In fact, we are breaking down winning landing pages into 5 essential elements that you absolutely need to have.
Without these elements, you may be able to generate a lot of traffic to your landing page, but your conversion rate will be low. And who wants that? Even if you have a great strategy in place for sending traffic to your landing page- if the landing page itself is not properly set up and optimized, your results will suffer.
If your web push notifications, social ads, email campaigns, or other digital ads are sending people effectively to your landing page, but your bounce rate is high and your conversion rate is low, you've got a lot of room for improvement. Here are 5 essential elements of a winning landing page, all of which you need in order to boost the effectiveness of your landing page.
1. A Headline
The first element that is going to draw someone in is your headline. This is your chance to really wow your audience and hook them in so that they will continue to scroll and read more. If you fail to create a solid headline (and sub headline), chances are you will lose your audience right away. Instead, create a concise headline that really explains what your unique value proposition is.
The above example does a great job of this- the headline is simple and clear. Design better. Faster. Together. This conveys what the service is, and how it is unique. There is clearly a strong emphasis on working together as a team, an important aspect for many businesses looking to improve collaboration.
When creating your headline, think about what makes your product great, and what makes it unique from your competition. Keep the headline itself short, and elaborate (slightly) with your sub headline. You'll have the chance to describe your brand in more detail later.
2. Visual Content
Have you ever stumbled upon a landing page that was just a bunch of text and bullet points? Chances are you have, and chances are you left without providing your information or making a purchase. The text might be great, but text doesn't draw people in the way that quality visuals do. We process visual information 60,000 times faster than text. Don't fight the facts, work with them.
You need to have great images on your landing page. If possible, try to stay away from stock images as much as possible. They have been overused on websites, landing pages, and social media, and for that reason, they are a lot less effective than unique, quality visual content. If you aren't a great photographer yourself, and don't have one on your team, read this guide on creating quality visual content all on your own.
If possible, we also recommend adding in video content to your landing page. Did you know that 96% of consumers find video helpful when deciding what to buy? It also helps keep people on your landing page instead of going somewhere else. Pages with video have an average visit length of 6 minutes, where as pages with only text and images have an average visit length of just 43 seconds. Even a short video explaining your product or service can make a huge difference in your conversion rate at your landing page.

3. Clear, Concise Copy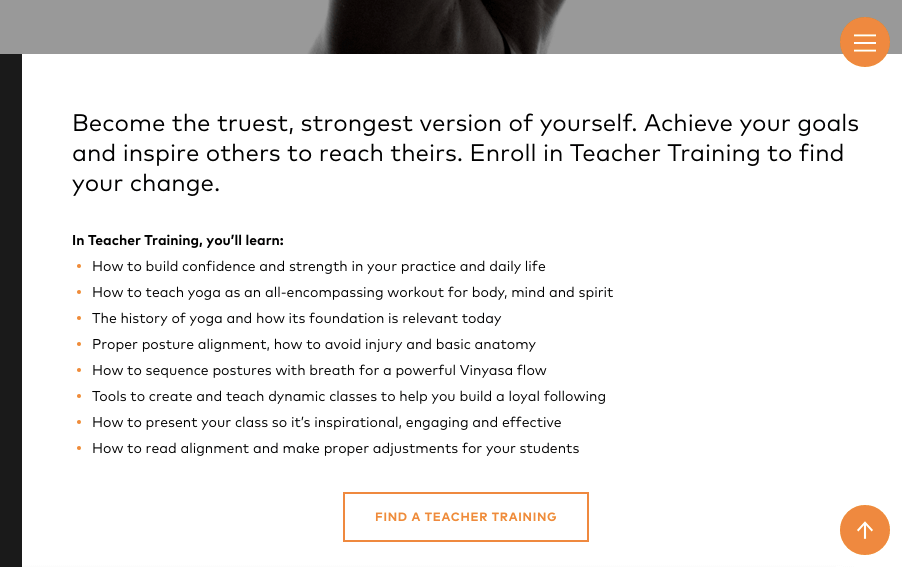 While you do need quality visuals at your landing page, that doesn't mean you don't have to worry about your copy. This is another crucial element of a winning landing page when done properly. Your copy needs to be clear and concise, but now is the chance to elaborate more than when you create your headline.
Here is your opportunity to explain why people are here at your landing page. What are you going to do for them? We recommend including a common 'pain point' that your audience has, and how your product or service can solve it. Make sure you are very clear when it comes to the features of your product or service.
Finding the right balance here can be tricky. While you don't want too much copy that is going to overwhelm your audience, too little copy can leave them undecided about you. You want to give them just the right amount of info.
What the perfect amount will be will vary from brand to brand. For simpler products, you can get away with less copy. For complex services or products, you can justify writing a little more. Consider using things like bullet points (like pictured above) to make it easier for users to scan through your copy. Even if what you are selling is very complex, you can write about it in a clear way that will be easier for users to digest and remember.
4. A Great CTA
Of course, the main point of your landing page is to get someone to hit your call to action button. For that reason, making sure your CTA is perfect is a major aspect of your landing page design. This includes both the visual appearance of the button, as well as the copy itself.
Along with the CTA also comes the lead capture form. If a user has to put in a ton of information, chances are they won't complete the form. Instead, streamline your form and only keep what is absolutely necessary for a user to provide- typically their name and email address. Make sure your CTA button isn't boring. It shouldn't say something like 'submit' 'go' or 'sign up.' Those are not at all inspiring and can result in a lower conversion rate.
Instead, your button should be exciting and point out what a user is getting when they submit. Whether that is a free trial, product demo, sample product, or anything else, make the CTA clear. Start My Free Trial. Book My Demo. Send Me My Free eBook. You get the idea. Make it clear and specific to your page.
If you do want to capture more information from your leads, consider either adding in more form fields but making them optional, or asking them to opt in to your web push notifications! Once opted in, you will track a lot of information about them which can be used to smartly retarget and nurture them towards conversion.
5. Trust Indicators
Finally, people are cautious when giving out their information online. From privacy concerns, to data breaches, to simply not wanting an inferior product or service, customers are taking their time before committing. One way to help put their mind at ease and also encourage conversion is to include a variety of trust indicators. One such way is to list out previous clients you have worked with (pictured above).
Alternatively, you can also include testimonials from previous customers of yours. As a form of word of mouth marketing, this can work wonders for boosting conversions. Research shows that over 70% of millennials are more likely to purchase something if it has been recommended online. Make sure you are gathering reviews and testimonials from your current customers and utilizing them smartly at your landing page, on your website, and even on social media.
Also consider other elements that instill trust, such as including your contact information at your landing page, adding trust badges, and including your privacy policy. All of these will help boost the legitimacy of your brand and help your customers feel more confident giving you their information.
Wrapping Up
With these 5 essential elements of a winning landing page in place, you are sure to see a major improvement in the effectiveness of your landing page. Make sure you have plenty of awesome visuals, including video if possible, improve your overall copy and headline, have a concise form and clear CTA, and instill trust via previous clients or testimonials. Be sure to check in with your analytics and track how much your landing page improves once you make these changes.
What do you feel is the most important element of a landing page? Let us know by sending us a message!
Are you considering utilizing web push to send traffic to your landing page or to capture your leads so that you can retarget them? Get started for free with Aimtell, or learn more about web push by reading our Beginner's Guide.
---
Tags: 5 essential elements of a winning landing page*, content marketing, customer engagement, landing page.