If you are looking to increase your web push marketing performance, utilizing smart audience segmentation can help. Creating unique segments of subscribers allows you to develop more targeted push marketing campaigns that your subscribers may find more relevant. You can utilize these subscriber segments to send push notifications to encourage actions such as making purchases, engage consumers in different phases of the buyer's journey, and connect with subscribers who have become inactive. 
Here are some of the best ways to use audience segmentation to help power your web push notification performance. 
Encourage Activity by Segmenting Based on On-Site Activity
One great way to segment your audience for push marketing is based on their on-site activity, such as viewing a product page, reading a blog or visiting a contact page. These segments can then be targeted with push notifications encouraging actions like making a purchase, reading additional blog content or submitting a form. Because push notifications instantly deliver to a subscriber's desktop or mobile device, you can engage your audience immediately to capitalize on their intent and drive them toward the desired action.
The above notification, for example, could deliver to a segment of subscribers that had viewed either a similar product or the dress product category. The additional notification personalization (adding the subscriber's name) and discount code may help increase the push notification performance even more. 
Engage Subscribers Across All Phases of the Buyer's Journey
Audience segmentation within push marketing also allows you to group your subscribers based on their likely phases in the buyer's journey given their activity on your website. By segmenting your audience in this way, you can target each group with appropriate content designed to push them down your sales funnel and closer to converting.
Here are some examples of push notification content that may perform best for each phase of the buyer's journey: 
The Awareness Phase

: Consider sharing relevant content, like blog articles, and share how your brand's products or services can help solve common consumer pain points. 

The Consideration Phase

: Consider sharing more detailed product information, UGC or user reviews to help inform your customers about your specific products. 

The Decision Phase

: Consider sharing incentives like promo codes to encourage the sale. 
Tailoring content for the buyer's journey is not a new strategy; however, utilizing web push notifications gives you an additional way to communicate with your audience at all phases to keep your brand top of mind and to help drive push subscribers toward the sale.    
Retarget Inactive Subscribers
While targeting your most active subscribers can be a great strategy to boost engagement and sales, you can also target inactive users with targeted push notifications to try and win back their attention before considering them lost for good. 
Inactive subscribers may benefit from unique content to recapture their interest. Consider sharing new product information, top user reviews, top-performing content or an incentive. While it's unlikely all inactive subscribers will engage, you may get a portion to return to your website and continue their progress along the buyer's journey. 
Utilize Custom Attributes for Advanced Segmentation Opportunities
Custom attributes can help take your push marketing segmentation to the next level by allowing you to track any custom data point besides what Aimtell tracks for you automatically. These attributes are a great way to create truly custom segments of subscribers based on your specific website and brand. Example custom attributes include last login date, referral status, trial days remaining, subscription plan or last email open date. Custom attributes can be used for both segmentation and within push notifications themselves.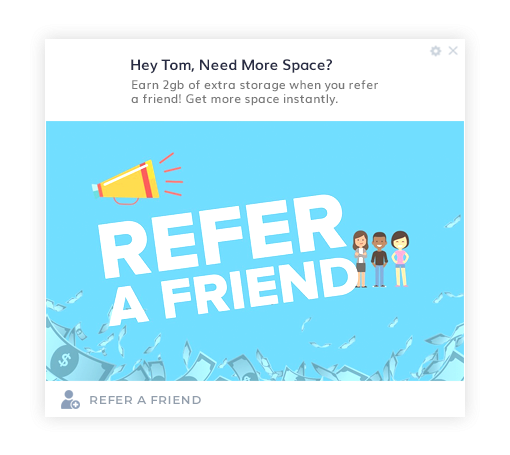 The above notification could be sent to a segment of users who are running low on storage space. The custom attribute, storage space, allows you to target the right subscribers, encouraging them to purchase more space. No matter your vertical, you can utilize push notifications, and custom attributes can help you segment your audience according to your specific needs. 
Ecommerce brands, for example, could segment VIP customers with exclusive content and perks. For users that haven't made purchases yet, an introductory offer may inspire them to return to your site and buy something. If you offer a free trial, targeting trial customers may help retain and convert them into paying customers before their trials expire.  
Segmentation + Custom Attributes = Push Marketing Power
Audience segmentation is one of the most powerful ways to enhance your web push marketing performance. Segmentation allows you to send more targeted push notifications that may perform better with your audiences. You have plenty of ways to segment your audience, including based on their on-site activity, by their phase in the buyer's journey and by their level of activity. Likewise, Aimtell offers nearly endless opportunities when using custom attributes. 
Are you new to web push notifications and looking to get started? If so, you can start today for free with Aimtell, or you can learn more by reading our Beginner's Guide.
---
Tags: audience segmentation*, segmentation, web push notifications.