As the holiday season presses on, are you doing everything you can to maximize your sales? It's the busiest shopping season of the year, and with it comes plenty of opportunity to boost sales, gain new customers, and retain those customers for well into the new year.
While you could try to juggle everything on your own, instead why not enlist the help of some excellent digital marketing tools that can help you with everything from social media, to upselling, to live chat?
You may already be engaging in a lot of these tactics (and that's great!) but could you be doing a better job? Or, consider that these tools will make your work in these areas easier so that you can focus on other important aspects of your brand. Maybe some tactics on this list aren't even part of your current marketing strategy, but they probably should be.
Let's dive in and discuss 10 top marketing tactics that will help maximize holiday sales, along with the digital marketing tools that can help you get it done.
1. Social Media/Social Listening: Buffer

Social media is a crucial aspect of any digital marketing strategy, especially during the holiday season. Social media is largely a two-fold operation, as you handle both posting content to your channels and managing social conversations taking place. It can be a lot to handle. From creating unique content for each platform, to managing Twitter replies, Instagram comments, Facebook mentions, and a lot more, there's a lot to juggle!
Buffer is a great social media management tool that will streamline your social media marketing. Not only can you use Buffer to schedule out social media posts, you can also use their tool Buffer Reply to easily manage all social conversations happening around your brand. This includes direct messages as well as public comments on all major platforms, all organized in one central location for you to see and respond. It's a real game changer.
Social media has become a top destination for customers to ask brands questions, and especially during the holiday season, you want to make sure you are on top of answering any and all comments. Instead of manually switching from platform to platform, using a tool like Buffer Reply will save you time and ensure you aren't letting some comments slip through the cracks.
2. Customer Feedback: Typeform

One of the best ways to maximize your holiday sales is by optimizing your website and customer experience. And who better to tell you what you need to improve on than your actual customers? Collecting customer feedback is a great way to gather valuable data that can result in a serious sales boost. Happy customers are willing to spend more- on average 17% more with companies that offer excellent service.
Typeform offers you numerous ways to engage your audience, and we especially love their customer feedback forms. Traditional long feedback surveys are, quite frankly, boring, and many users won't spend the time to fill them out. With Typeform, the experience is more engaging, interesting, and personal, in order to better connect with the specific user and get them to provide honest feedback about their experience.
You're sure to get a lot of new customers this holiday season- be sure to ask for their feedback and implement any changes if you see a pattern of responses. Perhaps your checkout process is too long, or your website loads too slow. Maybe your customers don't like your shipping or return policy. You won't know unless you ask.
3. Cross-Selling/Upselling: Bold Upsell

Both upselling and cross-selling are great tactics for boosting holiday sales. If you need a quick refresher on the two concepts, upselling involves offering a user a slightly better version of the product they are already looking to buy (perhaps a newer model of a toy, a smartphone with more storage, or simply a larger quantity of the product they are looking at).
Cross-selling involves offering a user related products that they are likely to use along with the product they are buying (as seen in the image above: if you are buying coffee, you may also want to purchase a new mug and some coffee filters).
Both tactics will increase sales for companies that engage in them well. A tool such as Bold Upsell can take care of this for you easily! The key to successful upselling and cross-selling is to offer the right products at the right time. You don't want to offer a product that is far more expensive than the current one, and you don't want to offer unrelated items. You also want to make it easy for a user to switch items or add additional items to their cart.
Bold Upsell is a Shopify plugin that will allow you to implement things like upsell popups and related item cross-sells that show up when a user adds an item to their shopping cart. Best of all, Bold Upsell processes user data intelligently in order to offer appropriate items. Instead of taking the time to determine what would be a good cross-sell or upsell for each item of yours, a plugin like Bold Upsell can do that for you.
Don't run your ecommerce store on Shopify? No problem. Magento users will find that the platform has a built in system for setting up cross-sells and upsells. If you run your store on BigCommerce, consider using the app Boost Sales.
4. User-Generated Content: Yotpo

Social proof is a solid way to improve sales, and a great way to provide that social proof is by way of user-generated content. This can include more traditional user reviews, but we also recommend leveraging things like social media posts on your website and on your own social media channels.
Having this social proof is especially important when it comes to ecommerce brands. Research shows that 54% of consumers trust things like online reviews, whereas only 20% trust a brand itself. Close that gap and gain consumer trust, and therefore sales, by investing in social proof.
We recommend a tool like Yotpo to help you manage your user-generated content. This tool will place a gallery at your site that will show off things like Instagram posts from your users. Couple this content with a branded hashtag in order to encourage new customers to share their own images as well. Not only will this help improve sales, but will also give you a steady stream of content that you can use on your social platforms as well.

Your customers are bound to have questions this holiday season. It is in your best interest to make it as easy as possible for them to get the answers they need in order to feel confident making a purchase with you. Having live chat installed at your site is a great way to offer quick customer service to your users.
During the busy holiday shopping season most customers won't want to wait to get an email response, and making a phone call may be inconvenient and is often time consuming. Live chat allows a customer to get quick answers that they need while still carrying on other business of theirs. It is a solution that makes both companies and users happy.
LiveChat is a great tool that will help you provide excellent customer service. Not only can you host live chats at your website, it can also integrate with tons of tools you may already be using like Facebook Messenger, Mailchimp, and Salesforce (just to name a few).
Facebook Messenger in particular is a great integration that allows you to respond to any Messenger questions right from LiveChat. Consolidate your messages in one place in order to provide quick responses and help close the sale.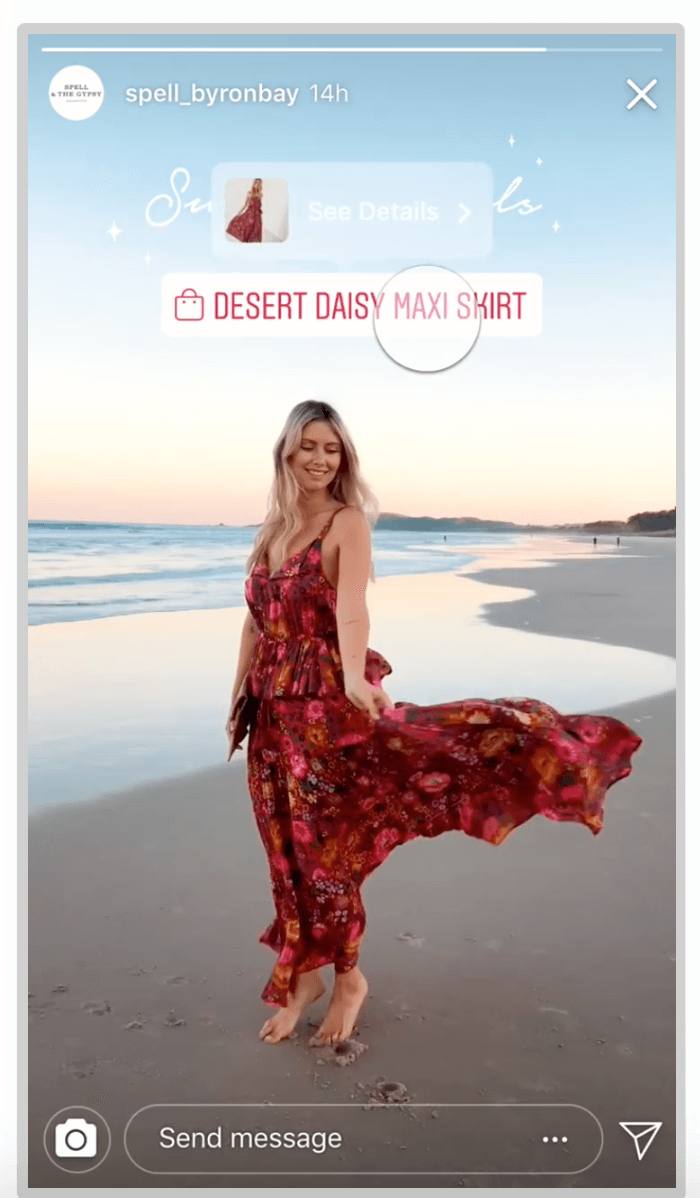 Social media continues to play a major role in ecommerce marketing, especially Instagram. The visual channel has emerged as one of the best platforms for brands to engage their audience and boost sales. With over a billion users, and nearly 500 million daily active users, it has overtaken almost all other social media platforms (with the one exception being Facebook).
Now, in addition to sharing regular posts, you can sync your Facebook catalog with Instagram in order to create shoppable posts. Shopping on Instagram allows you to tag your products in your posts as well as your Instagram Stories (pictured above). With 400 million daily active users using Stories, it has become the latest and greatest way to promote your products. Considering that brands on Instagram see on average engagement rates that are 10 times higher than what they see on Facebook, it is worth your time to invest in this social platform.
Best of all, Instagram is likely a platform you're already using, and setting up to sell products doesn't cost anything. All you need to do is make sure you have a business account, and a Facebook catalog set up. You can head to Instagram's business site to learn all about getting set up for Shopping on Instagram.

There is a lot of money being spent during the holidays. Nobody is more aware of that than customers who are out trying to secure the best deals on gifts for friends and family. One major way you can set yourself apart from competition, or at least keep up with them, is to have a rewards system in place.
Rewards (or loyalty) systems work so well because it makes companies and customers happy. As a customer, you are satisfied that the money you are spending on items will also amount to something else, such as a discount code, free gift, or points that can be used towards future purchases. As a company, you will over time find that your rewards system results in things like larger average order values, an increase in repeat customers, and an overall increase in revenue.
LoyaltyLion is a great digital marketing tool that focuses on creating awesome rewards programs. As a customer of theirs you can create a totally custom loyalty program that fits your brand perfectly. Best of all, their system is built to work on desktop and mobile devices, and even in store should you also have a brick and mortar location.
8. Email Marketing: Mailchimp

There is no denying that email marketing is still an effective strategy to engage in, especially during the holidays. While there is sure to be a lot of competition in any customer's inbox, it is still a valuable way to directly engage your customers. In fact, research shows email marketing still accounts for about 20% of sales during the holiday season.
Mailchimp is one of the most widely used email marketing platforms, and with good reason. It is easy to create an endless amount of campaigns on their platform- from welcome campaigns, to abandoned cart notices, RSS feed newsletters, and so much more. You can automate plenty of their campaigns as well, saving you valuable time.
Does your ecommerce website allow users to add items to a wishlist? This is a great tool that can result in a major sales boost for you. Not only are you gaining valuable data about what your customers like, you can use that data in email campaigns reminding them about those items. These types of campaigns are powerful because they are personalized and relevant and are all about customers taking that final step towards making a purchase.
9. Conversion Rate Optimization: Hotjar

Once people land at your website, are you in search of more data on what they are actually doing? You can look to your analytics to find a lot of information about which pages are clicked, what the average bounce rate is, and more. But there is more you can do to better understand how your customers are using your website.
Heat maps (pictured above) are a great way to get a visual idea of how your website is performing. Hotjar is the leading digital marketing tool when it comes to producing visual data such as this that you can then use to optimize your website for better conversions. Are you placing crucial information too far down on your homepage? Are people not even scrolling to see it? Is your menu not properly set up, or are certain pages not getting any attention at all?
You can also do this on other pages, like product pages, to see how users are engaging with your products. With this data you can see what aspects of your site you need to work on and make the necessary tweaks that will help boost your conversion rates. Especially during the busy holiday season, even a slight increase in conversions can result in a significant boost in sales.
10. Target Abandoned Carts: Aimtell

Finally, targeting abandoned carts during the holiday season is a major way to maximize your holiday sales. People abandon their carts for all sorts of reasons, and it is up to you to nudge them to come back and complete their purchase.
The average abandoned cart rate hovers around 70%. Perhaps a user was doing some research about your product, or maybe they wanted to search for a better price. Maybe they didn't like your shipping policy, or there's a chance they simply forgot about it. No matter the reason, you can (and should) retarget these users in order to reclaim some of those carts.
Easily automate abandoned cart marketing with the use of Aimtell web push notifications. What is great about web push is that you can target a user who abandoned their cart even if they haven't given their personal information or email address. No matter what stage of the process they abandon their cart, you can retarget them via web push (as long as they are a subscriber).
Web push notifications are a great digital marketing tactic to use this holiday season. Social media and email marketing are great, but it can be hard to get the visibility you want amongst other brands competing in the same arena. Web push gives you an easy way to directly engage your subscribers both on desktop and mobile devices.
Wrapping Up
This holiday season, maximize your holiday sales by using these digital marketing tools that will help you improve conversions, sell on social media, upsell and cross-sell relevant items, retarget abandoned carts, reward your loyal customers, and more.
What is your favorite holiday marketing tactic? Let us know and send us a message!
Get started with web push notifications for free with Aimtell, or learn more about web push by reading our Beginner's Guide.
---
Tags: abandoned carts, automation, digital marketing, ecommerce, retargeting, web push, web push notifications.