We are sure you are hard at work finishing up your holiday marketing plan for this season. You've probably already started many of your marketing initiatives to get your customers excited for your holiday deals. As Black Friday and Cyber Monday draw closer, are you truly prepared to maximize your sales during this time?
It is without doubt that sales will soar during Black Friday and Cyber Monday. Sales have increased year over year and will continue to do so. Does that mean that your business in particular will see sales increase? Not necessarily.
With the increasing number of brands investing in holiday marketing and advertising, it becomes more of a challenge to stand out in the crowd. Would you rather sit back and hope that your most loyal shoppers will remember you during the busy shopping season, or do you want to be more proactive with your approach?
One of the best ways you can engage your audience during Black Friday, as well as the rest of the holiday shopping season, is through the use of web push notifications. If you've set up your sales goals for the season and are determined to reach them, why not try using web push to help get you there?
Here are 3 reasons why you can absolutely boost Black Friday Sales with web push.
1. You'll have much higher visibility
Do you have a great Black Friday email campaign all created and ready to go? While there is nothing wrong with engaging in some email marketing this time of year, the reality is that every other brand is doing the same thing. Email inboxes begin to flood with all sorts of reminders and announcements this time of year. Your email may go unnoticed, end up in spam, or simply be deleted along with all other deals because it is just too overwhelming to sort through them all.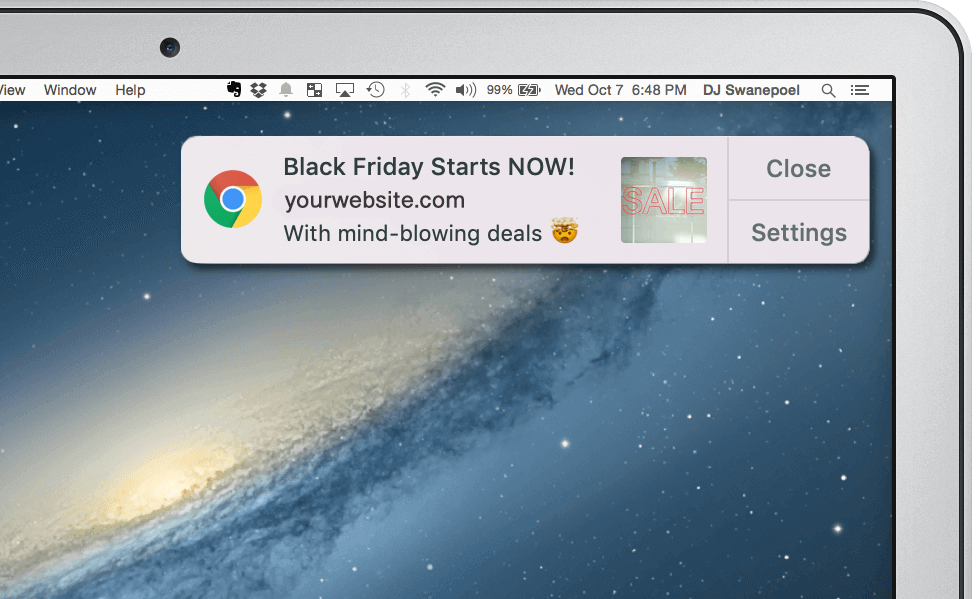 Thankfully, with web push you are dealing with a much lower noise channel. Your push campaign will instantly be delivered to a user's desktop or mobile device where they can see it and click it to instantly be sent to your website. If you have noticed that your open rates for email have decreased, especially during this time of year, it is worth it to invest in something like web push that can increase your visibility.
The same logic applies to social media. It is great to use and has many benefits, but it can be hard to stand out among the many other brands that are doing the same thing. Web push can step in to help amplify your social media and email marketing efforts to ensure your brand is getting seen.
2. You'll maximize the impact of quick sales
Black Friday and Cyber Monday are all about flash sales. By shortening the length of a sale, you create a real sense of urgency amongst shoppers who don't want to miss out on your best deals. Sounds great, right? And it is. But the risk of running a short lived sale is that your customers won't even become aware of it until it's almost over, or is completely over.
In order to fully maximize the impact of your flash sales, utilize web push to send campaigns alerting your subscribers the instant your sale starts. Because your notifications are delivered in real time, you can be sure that your audience will see your message right away. Further optimize your campaign by setting a custom notification expiration time so that the message will automatically disappear once the sale is over.
This can also help improve customer satisfaction. Have you ever tried shopping a sale at the last minute only to find out that everything you want is sold out? Not fun. With web push, your subscribers get the alert right away and have the chance to shop right as your sale begins.
3. You'll re-engage your old customers
Finally, make sure to use web push during the holiday season in order to re-engage your best customers. While they might shop with you again without you reminding them, you simply can't afford to hope that they will. There is far too much competition these days.
Instead, segment your subscribers accordingly and send them campaigns based on factors like what pages they have visited or how much they spent at your website (a tactic that has worked well for ecommerce brands like Rhone Apparel). Utilize custom attributes in order to deliver a personalized, relevant message that will inspire your subscribers to click. You can also A/B test your campaigns in order to see what will work for you most effectively.
By re-engaging some of your best customers you are sure to see a nice boost in your sales- repeat customers tend to have a higher average order value (and if they stick around and shop with your business for 3 years they tend to spend 67% more than during their first year shopping with you). As an added benefit, these customers may also help promote your brand in the process, and we all know how powerful word-of-mouth marketing is.
Wrapping Up
The holiday season is always a busy one, and represents one of your best opportunities to drive major sales. By choosing to deploy web push notifications, you are setting yourself up for major success by connecting with your subscribers in real time to alert them of your best deals. By re-engaging old customers you are amplifying your sales even more, as these loyal shoppers are sure to spend more at your store than first time customers.
What are your favorite Black Friday marketing tactics? Let us know!
Ready to implement web push notifications? Be sure to check out our Beginner's Guide, and get started today for free!
---
Tags: black friday, digital marketing, ecommerce, web push notifications.