Let's face it: you say that you value your customers, but do you really? If all, or most, of them make one purchase from you and never return, do you think you did a great job convincing them how great your brand is or how much you care? Maybe not so much. Customer retention is a huge key to any brand's success, yet plenty of marketers admit to not allocating sufficient resources towards their retention efforts. Are you in this boat as well?
Customer acquisition is important, there is no doubt about that. However, given the stats on how important repeat customers are for business, it doesn't make sense why brands are still not prioritizing their customer retention efforts. Not only do these customers spend more (sometimes as much as 67% more), it is largely agreed upon that retention efforts are much cheaper than acquisition efforts.
In short: work on retaining the customers you do have. They're important, profitable, and make your brand look good. Take a look through this list of customer retention strategies and see how many, if any, your ecommerce brand is succeeding at.
Employ exceptional customer service
Customer service is a big one. Your audience is always going to have questions, and you need to make it known to them that you care about answering them. Increasingly, multi-channel support is becoming the way to go. It is fine to keep an email address listed where customers can contact you, but many of today's customers expect answers a lot quicker than that.
Live chat is a great way for ecommerce brands to deliver immediate support to their customers. There are plenty of live chat tools you can implement on your website from companies like Bold Chat or Intercom, or you may integrate with something like Facebook Messenger and use their chat feature to connect.  Best of all, customers love live chat. And in terms of retention, 63% of customers said they would be more likely to return to a website that offers it.
Social media is another great tool for customer service, whether officially or unofficially. Have you ever seen a bunch of tweets targeted at a brand that just sit there and get no response? You want to avoid that. At the very least, be sure to monitor your social media channels for people reaching out to you asking questions, and be sure to respond to all of them. Unanswered questions on social media equate to bad publicity for your brand and can easily turn people away.
Additionally, if you are getting a lot of customer questions on social media, consider creating a dedicated account to handle things. Twitter has rolled out helpful features (pictured above) that will help you to label the account, including adding a 'provides support' icon to further alert customers.
Invest time in your social media
Outside of customer service, social media in general remains incredibly important as a means of furthering your brand message and increasing brand loyalty and customer retention. You know you need a presence on social media, but don't get stuck focusing on that side of things. Instead, invest time in engaging with your audience. This can include responding to comments, sending your own comments, reposting user content, running contests, and more. Always keep in mind that social media is meant to be just that: social. This can easily take up a lot of your time, so consider hiring a designated social media management person or team.
Create content your customers want to consume and engage with
 There is a lot of content on the Internet today. Tons of it. While just a few years ago it was possible to put up mediocre content and still get pretty good visibility and engagement, that is not the case today. Marketers and brands have to work much harder to create content that is truly unique, relevant, and engaging to their audience. With this type of content, you are much more likely to get your customers returning to your website, and also increase the amount of shares your content receives.
A recent trend in content marketing is video marketing, and more specifically, 360 video. This type of content is unique and really gives your audience a chance to engage and become immersed with your content. Plenty of brands are giving 360 video a try, like the above example from Buzzfeed. You might shoot a video from your office where you design your products, or out in the "real world" while using or displaying your products, for example. This content is fresh and engaging, and that is exactly what you need to keep your customers coming back.
Build a valuable rewards program
What's a sure fire way to increase your customer retention rate? Offer them rewards when they shop with you. It's true, everyone loves getting free stuff. Therefore, it is in your best interest to create some sort of rewards program that will work for your brand. In fact, 83% of customers who have been a part of a rewards program say that it makes them more likely to continue shopping with a brand.
You've got flexibility in terms of what your program looks like. Maybe you award customers points for each purchase they make which can be used to discount future orders. Or, maybe you have a system that gives customers a free gift or coupon code once they make a certain amount of purchases or spend a certain amount. No matter what you decide, just know that it should provide tangible value to your customers that will encourage them to return to you in the future.
Retarget via web push notifications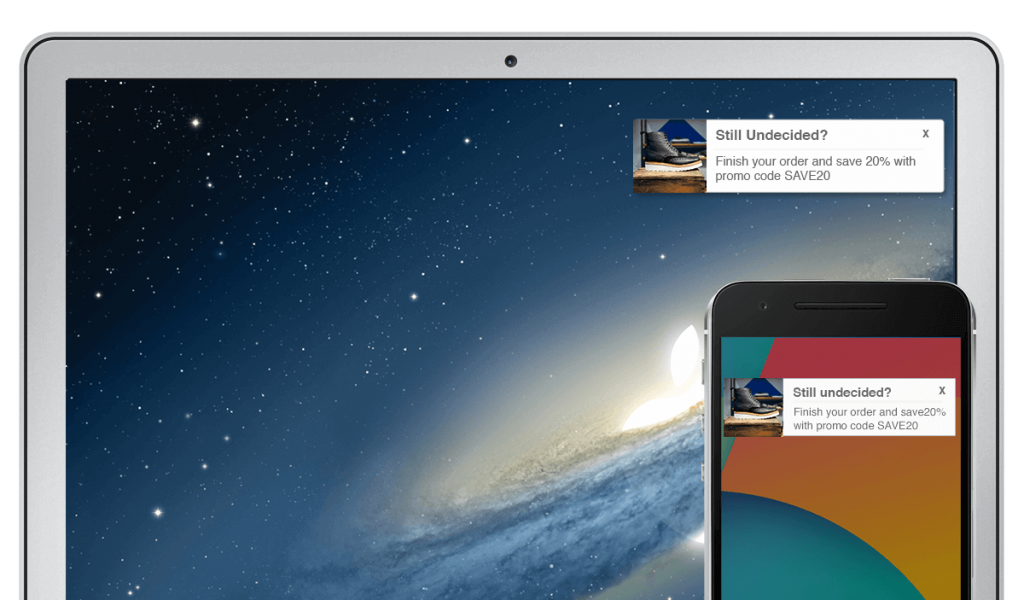 Not only can web push notifications help engage your existing audience, it can also help with retargeting users who have drifted away from your site that you wish to recapture. Web push offers you a full arsenal of tools that gives you tons of options when it comes to building campaigns. Personalized marketing is expected from users today and can help in securing loyal customers. Web push makes this easy by allowing you to build segmented audiences based on numerous factors including geographic location, how much a user spends, items they have looked at or purchased, last time visiting your website, and more. As users fit these requirements, they will automatically be added into the segment. All you have to do is go in and build your message, select the segment, and that's it.
You can take your personalized content even further with other message options such as shipping confirmation and cart abandonment notifications which will trigger automatically. These automated notifications provide a lot of value to your customers, and also take no real effort on your end. Simply set up the campaigns once and they will trigger automatically going forward.
Be mindful of your web push campaigns, as too many messages can become overwhelming to your audience. However, when executed properly, they are some of the most effective marketing messages out there today.
If you wish to get started with Aimtell, click here.
Are there any other customer retention strategies we didn't mention that you've had success with? We want to hear them! Let us know by commenting below or sending us an email.
---
Tags: customer retention, digital marketing, ecommerce, web push notifications.